Your Donation Matters
$500   Provides emergency medical supplies, domestic violence shelter,
           cribs for safe infant sleep to prevent SIDS
$350   Provides free medical care, nutritious meals, transportation services
           for donated care patients
$100   Support emergency grant requests
---
Tax-deductible donations can also be mailed to:
Pierce County Medical Society Foundation
1019 Regents Blvd Ste 202
Fircrest WA 98466
---
The Pierce County Medical Society Foundation was formed in 2000. The Foundation exists to raise funds to contribute to local non-profit agencies in efforts to provide assistance for those needing help in Pierce County.
The PCMS Foundation awards grant monies to Pierce County non-profit agencies that provide direct services for Pierce County citizens who are most in need. Feeding the hungry, offering clothing, shelter and protection for the most vulnerable, and providing health care for those without access are the missions of the agencies they are proud to fund.
The Foundation would not exist without the generosity of the Pierce County Medical Society membership. Contributions to the Foundation allow for local, non-profit agencies to benefit by over $20,000 collectively each year.
Each year funds are raised from the PCMS membership with the Holiday Sharing Card Project and the Annual Meeting raffle. Members generously donate to the card project and raffle knowing that 100% of net proceeds will be returned to the community through local non profit agencies that are awarded grant money.
---
Grant Application
The 2023 PCMS Foundation grant application period is now open. Please email [email protected] for more information and an application. DEADLINE TO SUBMIT APPLICATIONS IS AUGUST 23, 2023

Recipients are chosen by the Foundation Board of Directors with grants ranging from $250 to $2,500 for Pierce County non-profits.
Areas of interest:
Donated/free medical care
Feeding programs
Medical support services
Homelessness
Housing support services
Abused and neglected youth
Applicants must submit an application and include proof of 501(c)(3) status, a copy of their budget, a list of funding sources, and a copy of their annual report/or equivalent information.

Grantees from 2022 must provide a written report to be considered in 2023 grant cycle.
Applications and support materials are reviewed by the PCMS Foundation Board and applicants providing the most direct services to Pierce County's most vulnerable citizens are selected for funding.
---
2022 Grantees
The PCMS Foundation thanks all of these organizations for their dedicated work in our community amid a global pandemic. Thanks to the generosity of the PCMS membership, the Foundation is able to support their missions.
Associated Ministries of Tacoma-Pierce County
Catholic Community Services of Western Washington
Healthcare Careers Academy
Neighborhood Clinic
Perinatal Collaborative of Pierce County
Pierce County Project Access
The Wishing Well Foundation
Trinity Neighborhood Free Clinic
---
Foundation Board
President
Charles M Weatherby, MD
Vice President
Lawrence A Larson, DO
Pediatrics Northwest
316 Martin Luther King Jr Way, Suite 212
Secretary
Linda Krause
Pierce County Medical Society
1019 Regents Blvd Ste 202
Board Member
Mark S Grubb, MD
Woodcreek Pediatrics - Mary Bridge Children's
1706 S Meridian #130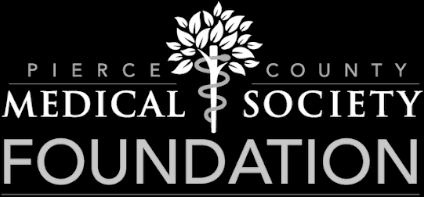 Enriching the lives of those in our community.
PCMS Foundation
1019 Regents Blvd, Suite 202
Fircrest, WA 98466
Phone: 253-572-3667
Fax: 253-572-2470